Expert commercial cleaning by highly-skilled professionals in Cannock
At Ratcliffe Cleaning, safety will always be our top priority. By the very nature of our work, our expert commercial cleaning technicians are in constant contact with potentially harmful chemicals. We also regularly work at lofty heights and in unusual spaces.
It can be a risky business if it is not carried out to a highly professional standard, which is why we always ensure the strictest health and safety standards are met. All of our technicians must undergo rigorous training and be accredited with CSCS, 1-day Health and Safety Course, IPAF, PASMA, High pressure jetting course, DOFF steam cleaning certified before they are deemed to be ready to take on higher-risk jobs such as high level cleaning and pressure washing. Our employees also receive ongoing training opportunities to improve their skills and keep them up to speed on the latest – and safest – cleaning techniques. This is not just for your safety, but for ours as well. With Ratcliffe Cleaning, you can rest assured that you are working with a team of true professionals.
Prior to any job, it's ensured a Method Statement and Risk Assessments is provided before commencement.
Ratcliffe Cleaning hold accreditations from SMAS, Constructionline, are Safe Contractor Approved and Chas Accredited Contractors so you know you are in qualified hands.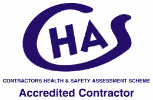 The COSHH assessment: ensuring absolute health & safety compliance
We take care to gather every possible piece of information about a property before we begin our cleaning process. This ensures that we are providing the best possible solution for the client.
The first step is a consultation with one of our professional team members, where we will discuss the specific health and safety requirements for your building. We will then combine your notes with our own industry standards in order to guarantee the most accurate results. For the next step, we will prepare a comprehensive method document, risk assessment, COSHH assessment, and a copy of our insurance policy. This will ensure that you have every bit of information you need to make an informed decision regarding your cleaning solution.
The benefits of working with Ratcliffe Cleaning
Why choose to work with us for your building site cleaning needs?
At Ratcliffe Cleaning we have a highly professional approach to commercial cleaning services, and always put the client at the heart of everything we do.
Over 20 years of experience in the business
Friendly team with a highly professional attitude
Network of offices all over the West Midlands
Top-quality work at outstanding value for money
Top-standard commercial cleaning projects: Our dedication to quality
At Ratcliffe Cleaning, we are dedicated to using only the best cleaning products and equipment available, with a focus on quality as well as environmental awareness.
Our practices for commercial cleaning projects are regularly checked and we always stay abreast of the latest policy changes to ensure that all standards are met or exceeded. As testimony to our ongoing dedication to the highest health and safety levels, we have been awarded the prestigious Achilles badge; proof that we truly are the best cleaning contractors in Cannock, Birmingham, Wolverhampton, West Bromwich, Stoke, Coventry and the West Midlands.
Our professional cleaning services
Our professional cleaning services
Our commercial office cleaning work can be personalised to fit your specific needs.
To obtain a free quote or discuss our services in more detail, just call us on 0800 294 2887.